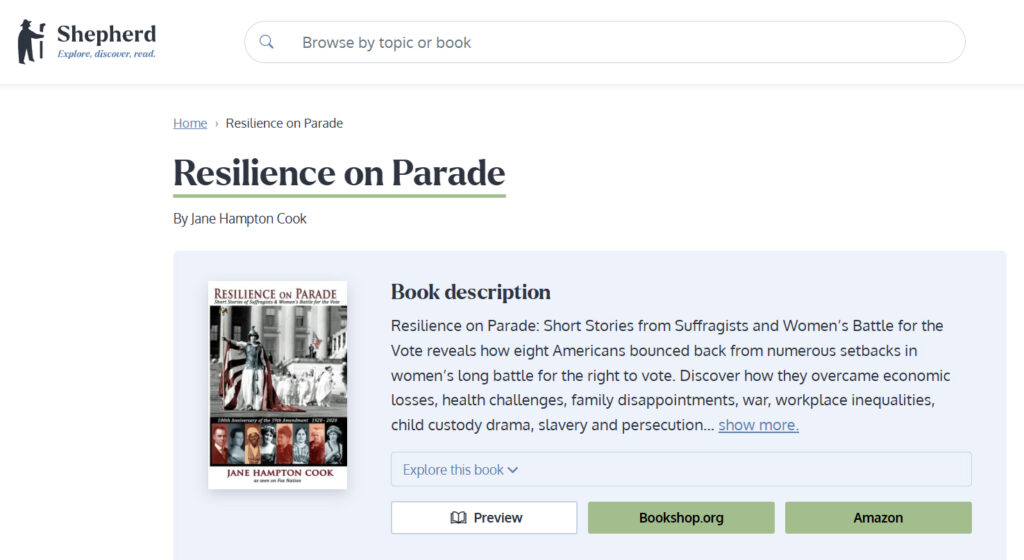 Discover how eight suffragists battled for the vote by bouncing back from economic losses, slavery and persecution, child custody battles, health challenges, family disappointments, war, and workplace inequalities while showing courage, initiative, perseverance, creativity and resilience.
Resilience on Parade: Short Stories from Suffragists and Women's Battle for the Vote reveals how eight Americans bounced back from numerous setbacks in women's long battle for the right to vote. 
Resilience on Parade focuses on the highly relevant theme of resilience, which is a quality that Americans need as they recover from the COVID-19 pandemic. You've probably heard of Abigail Adams's call to remember the ladies but how did John Adams respond and what was his remedy to making voting more equal? Why could only 16% of the population vote when America was founded?
What emotional childhood wound gave Elizabeth Cady Stanton the lifelong vision for women's right to vote? Which workplace injustice turned Susan B. Anthony into a professional advocate for an amendment to the Constitution granting women universal voting rights? Likewise, how did faith impact Sojourner Truth during a child custody battle and her famous speech "Ain't I woman?"
When did Ida B. Wells-Barnett and Inez Milholland demonstrate perseverance on a spring? How did Lucy Burns show creative courage to survive the night of terror? Which lady did Tennessee legislator Harry T. Burn remember 100 years ago in August 1920 in the final vote on the 19th Amendment, which finally gave all women the right to vote?
Resilience on Parade answers these questions and more. Unlike other books on the history of women's voting rights, Resilience on Parade takes a literary nonfiction approach through true stories that capture the emotional motivations and actions of those who lived loudly for liberty in this decades-long battle. Instead of relying on modern historians as sources, these stories primarily draw upon the suffragists' writings, memoirs and newspapers from their era to bring their voices to life in an authentic, fresh, relevant and personal way that is both entertaining and educational.
Highly recommended!
"Jane Hampton Cook is a consummate researcher, delving into archives and old newspapers to bring events alive in her previous nine historical books. The same thoroughness, scholarly exactness, and lively writing are evidenced in Resilience on Parade, her latest effort, and a timely addition to the nation's centennial celebration of women winning the right to vote. Highly recommended!" —Anthony Pettinato, GenealogyBank.com editor
What a grand way to learn history!"
First, this book is truly greater than the sum of its collected stories. Jane skillfully incorporates quotes that illustrate the era, the beliefs and the contributions to equal rights. Each woman in this book challenges current beliefs and works fervently for change. This is a delightful read that examines not only the history of women's rights, but also the tendency we have to hold onto beliefs even though they may not be valid or may do harm. What a grand way to learn history!" —Pat Pound, Former Presidential Appointee, National Council on Disability